Things I read while I drank coffee this morning (4.16)
Falcon and Razorcrest's edition.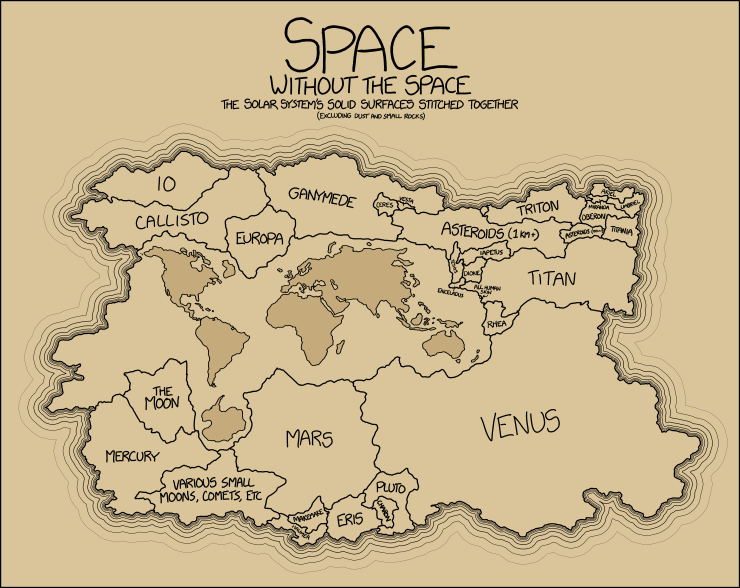 Awesome XKCD that shows relative landmass of space objects as compared to Earth.
---
Fascinating tidbits from Kathleen Kennedy about the complete attempt at the ambiguity of the title.
---
Pepsi Plans to Project a Giant Ad in the Night Sky Using Cubesats
A Russian company called StartRocket says it's going to launch a cluster of cubesats into space that will act as an "orbital billboard," projecting enormous advertisements into the night sky like artificial constellations. And its first client, it says, will be PepsiCo — which will use the system to promote a "campaign against stereotypes and unjustified prejudices against gamers" on behalf of an energy drink called Adrenaline Rush.
Please No. Seriously, no.
---
Gorgeous high resolution shot of Falcon Heavy thrusters! pic.twitter.com/XbhGl6KT8K

— World and Science (@WorldAndScience) April 15, 2019
---
We have got to the point in the Skywalker saga where I think I am more excited about The Mandalorian tv show than Episode IX. It will be good to see the series close, and I honestly believe JJ does a great job, but as I have said before, I want to see more of the non-Skywalker stuff, even if it runs in parallel. Rogue One was amazing, I have high hopes for The Mandalorian, and hoping we get to revisit the Mandalorian wars (fingers crossed this is what Throne's Weiss and Benniof get to cover)
Everything We Learned About 'The Mandalorian' at the Star Wars Celebration Panel